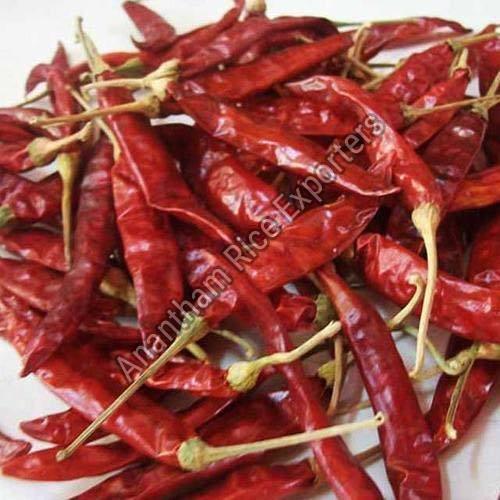 Dried red chilies are undoubtedly the hottest ingredient in the kitchen. Used whole or powdered form, red chilies render exquisite flavor to any dish. Adding pungency, color, and spicy flavor to the food, this staple ingredient of your kitchen can bring alive any blunt dish. The demand for dry red chili has scaled a new high and classified as one of the most popular spices in kitchen. Chilies are widely used all over the world while making curries, pickles or even chutney.
No Indian food is complete without a little sprinkling of this fiery ingredient. From Kashmiri Rogan Josh, South Indian Rasam to simple Daal, red chili is used to bring alive any Indian recipe. A little sprinkling of this staple Indian spice can give a distinct character and flavor to any preparation. The leading manufacturers of red chilies produce it by employing the latest technology and advanced machinery. The reputed dried red chili exporters and suppliers in India offer an array of this assortment, which infuses a unique taste to the food apart from the freshness. Probably, this is the reason why its demand has registered such a sharp rise.
Common Varieties:
Red chilies come in thousands of varieties; each unique in color and flavor. Some of the most common red chili varieties available in India are Kashmiri chili, Guntur chili, Hindupur chili, Birds' eye chili (dhani), Tadapally chili, Byadgi red chilies, etc.
Benefits of Adding Red Chili in Food
Excellent source of vitamin C, dried red chili has some amazing health benefits to offer. Some of them are as follows:
It has antibiotic properties that fight against sinus and other types of infection.
It acts as a natural painkiller.
It provides relief from lung disease.
It may improve cognitive functioning.
It helps support the digestive system.
It helps maintain healthy blood pressure.
It may assist in red blood cell formation.
It may promote good eyes sight.
It is good for hair and skin.
India not only tops the list of the largest chili producing nations in the world but it also one of the most dominant exporters of this spice. Offering a wide range of premium quality spices, the dried red chilli suppliers in Tamil Nadu have garnered a solid reputation in the market. The offered range of dried red chilies is demanded their freshness, strong flavor, freshness and color. Following are some of the factors that the exporters of dried red chilies keep in mind to retain their popularity.
They source the chilies from reputed producers who are engaged in offering fresh quality sun-dried red chilies in compliance with the industry guidelines.
They offer dried red chilies in safe packaging material to keep its original properties and freshness intact.
They examine every batch of their offered product at several stringent quality grounds before finally forwarding them to the marketplace.
The dried red chilies exporters make sure that the ordered product is delivered to the client within the committed time frame.
Widely used to enhance the delicacy and flavour of the dishes, the carefully chosen dried red chilies are endeared by customers across the country.